Pin It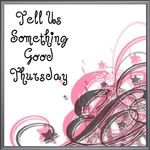 This is my first week joining in on this meme so here goes...
I've got a ton of good.. =)
My husband and I joined our church on Sunday!
I got my hair colored on Wednesday!! Hopefully getting it back to a more natural. Still a little dark right now but it'll fade some..
My daughter got a
Vtech Tote & Go Laptop
on Wednesday! Now maybe she'll leave my
iTouch
alone!
I'm finally getting off my butt and exercising!
there are plenty more small little things...
So what is your something good?