Pin It

MMMMMM…..Banana bread.
Just love Banana bread!! I don't care if it has nuts, oats, raisins, chocolate or whatever. I just love it! (I actually prefer it plain though.) So.. I had some bananas that we just got this past weekend and they were already going bad, didn't really seem like a question on what to do!

Here's the recipe I used. I got it from All Recipes and the photos are also from there since I didn't take any of my own. I made 2 small loaves, 24 mini muffins and 4 regular size muffins from a double batch of this recipe. So yummy!!!!! Wonder how well it will freeze… might try that next time.. don't think this will last long. Maddie loves it too!!

Hope you enjoy!!! (click recipe name for link to site)
Prep Time:10 Min Cook Time: 55 Min Ready In:1 Hr 5 Min
Original Recipe Yield 1 - 8x4 inch loaf
Ingredients
1 1/2 cups all-purpose flour
3/4 cup white sugar
1 1/4 teaspoons baking powder
1/2 teaspoon baking soda
1/2 teaspoon ground cinnamon
2 egg whites
1 cup banana, mashed
1/4 cup applesauce
Directions
Preheat oven to 350 degrees F (175 degrees C). Lightly grease an 8x4 inch loaf pan.
In a large bowl, stir together flour, sugar, baking powder, baking soda and cinnamon. Add egg whites, bananas and applesauce; stir just until combined. Pour batter into prepared pan.
Bake in preheated oven for 50 to 55 minutes, until a toothpick inserted into center of loaf comes out clean. Turn out onto wire rack and allow to cool before slicing.
Nutritional Information
Amount Per Serving Calories: 127 | Total Fat: 0.2g | Cholesterol: 0mg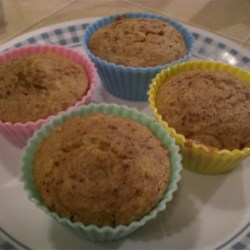 *pictures and recipe from All Recipes