Pin It
So my good friend Lisa over at Two Bears Farm invited me to do a challenge for Earth Day. I didn't know about this challenge but it's a very good idea. You use items you would normally throw away or recycle, if your town has that. I do that a lot because we love making cheap frugal crafts!

I actually had 2 tissue boxes and grabbed them real quick, got some cardstock, tape, glue, egg cartons and google eyes. (because to Mad a craft project isn't complete without google eyes!)
I didn't get pictures of us during the process only the end. You can use your imagination and make it as crazy as you would like! We just used the cute design that was already on the tissue box.. simple!

Mad made a Cyclops and I did one with a bunch of teeth. We had fun and she loves 'feeding' her monster!
This is Mad's
This is the one I did. Lots of chompers!
Here they are planning their take over…
Stripy checking out the new additions
and another one of hers with a dandelion added to it. (on the back there is a clothes pin glued to it to add signs or whatever she wants to add.)
And here's just a silly picture of Ms. Mad
As you can see the possibilities are monstrous!!

(yeah.. just had to say it!)
Hope you all have fun!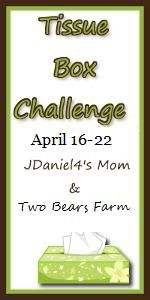 Now head on over and join in with the challenge!!!